The CURE Drug Repurposing Collaboratory (CDRC) is a public-private partnership initiated in June 2020 by C-Path and the U.S. Food and Drug Administration (FDA) in partnership with the National Center for Advancing Translational Sciences (NCATS), part of the National Institutes of Health (NIH).
CDRC, in partnership with the FDA-NCATS CURE ID* platform, is a dedicated initiative designed to capture real-world clinical outcome data to advance drug repurposing and inform future clinical trials for diseases of high unmet medical need. The initiative includes emerging/reemerging diseases, anti-microbial drug resistant infections, neglected infectious diseases as well as rare oncology diseases and other rare diseases where there are limited treatment options. The Collaboratory is strongly interested in capturing data from diverse populations including pediatric patients and pregnant women. C-Path leads CDRC, with participation from a diverse set of global stakeholders including, but not limited to, clinicians, scientists, U.S. Health and Human Services (HHS) agencies, non-government organizations, foundations and societies in order to:
Promote the CURE ID platform to enable the global health community to openly share patient treatment outcomes
Evaluate drug leads through advanced analytics to identify candidates for repurposing as new treatments in a transparent open forum
Inform the design of clinical trials of existing marketed drugs for new indications
Generate real-world evidence for expanding drug labels
Provide a regulatory roadmap to advance drug repurposing and expedite the availability of safe and efficacious treatments for diseases with limited or no treatment options
* The CURE ID mobile app is an FDA-NCATS collaboration to build an internet-based repository that allows the global clinical community to report novel uses of existing drugs to treat diseases through a website, a smartphone, or other mobile device. The repository captures the clinical outcomes when drugs are used for new indications, in new populations, in new doses, or in new combinations.
Stage 0 – Prioritize diseases
The CURE Coordinating Committees will begin by initiating a comprehensive landscape analysis for diseases where drug repurposing is being utilized for patient treatment of diseases with high unmet medical need. The Collaboratory will finalize a list to identify disease and treatment combinations where FDA approved treatments do not exist or are inadequate. This may include categories encompassing additional infectious diseases (e.g., emerging diseases, drug resistant infections and neglected diseases), rare diseases (e.g., non-infectious, oncology) and diseases in special populations (pregnant women, neonates, pediatrics). Once completed, a set of pre-defined criteria will be finalized that will allow the list to be prioritized. Examples of criteria may be the availability of drug treatment data or the identification of an active and collaborative disease research and advocacy community. In addition, the group will be charged with defining the key questions that the analytics team will be requested to address, including any thresholds identified based on quantitative analysis of values captured. This will allow the application of predefined criteria to identify analysis output that could be flagged for the CURE Drug Repurposing Collaboratory to review. Finally, the CURE Drug Repurposing Collaboratory stakeholders will draft standard operating procedures to define parameters necessary to select a drug to go through a defined repurposing effort based on existing data, level of evidence (e.g., existing guidelines), as well as the legislative and regulatory climate.
Stage 1 – Hypothesis generation using real-world data
There are many diseases and conditions where regulatory approved therapies are either absent or unsatisfactory and prescribers are forced to repurpose existing drugs for patients with difficult-to-treat diseases. This produces two significant challenges facing all communities relying on re-purposed drugs:
Many approved drugs have therapeutic uses that are never fully identified, investigated, or developed.
Many off-label drugs lack clinical data to support safe and effective for the alternative indication.
Initially, the failure by the pharmaceutical industry to invest in and pursue potential new uses is an innovation problem: there may be perceived barriers and firms may lack the necessary incentives to research and develop new uses of existing drugs approved for other indications, especially after they become generic. In addition, efforts have been initiated to capture a small number of deidentified data elements from data that is currently being captured (see data tools below) to ultimately populate the publicly accessible CURE ID data platform to generate hypothesis regarding the efficacy of repurposed drugs.
The problem of off-label use is one of both safety and efficacy: off-label uses are not supported by the same level of evidence as approved uses and are used at greater risk, both physically and monetarily, to the patient. Under these circumstances, physicians work with limited information to treat patients to the best of their abilities. However, as they do, the systematic collection of this anecdotal information could be utilized to inform others in similar situations.
Data capture tools:
A. Capturing treatment experiences from providers
CURE ID is an FDA/NCATS developed website and mobile app designed to capture case reports directly from healthcare providers worldwide. In these reports, the healthcare providers (clinicians, nurses, nurse practitioners, pharmacists…) describe how they are using existing drugs in new ways (i.e., drug repurposing) to treat diseases lacking adequate approved therapies. Reports can be generated directly in the app either as a quick submit feature with a minimum of answering 8 questions or by a full case report containing up to 40 data variables. Once submitted, the case report is added to the CURE ID data platform and reviewed by a CURE ID data curator who can engage with the submitter to address any quality concerns.
B. Capturing treatment experiences from the published literature
In addition to the provider submitted case reports, CURE ID and CDRC perform periodic literature reviews to identify published case reports that are transcribed into the app and referenced. We encourage authors to submit these cases to CURE ID directly. Alternatively, authors can contact us (email) directly when they publish a disease case report so that it can be included in the platform.
C. Capturing real-world data from electronic health records and disease registries
In addition, CURE ID is interested to enable automated and manual data collection from electronic health records (EHRs) and registries into the CURE ID case report form (CRF). The pilot for use of this technology will be for COVID-19. While COVID-19 now has an antiviral (Remdesivir) and the immune modulator Olumiant (baricitinib) as approved treatment options and good clinical trial data to support the use of dexamethasone, these therapies benefit subsets of patients infected with SARS-CoV-2, but there remains a need to identify additional safe and effective treatments. As of December 2021, Ritonavir-boosted nirmatrelvir (Paxlovid) and molnupiravir have received Emergency Use Authorizations from the FDA for the treatment of COVID-19.
CURE ID has secured a $8.2 million grant through the HHS Assistant Secretary for Planning and Evaluation (ASPE) Patient-Centered Outcomes Research Trust Fund (PCORTF) to automate the extraction of a limited subset of deidentified data from sites around the world for the purpose of the following:
Expansion of the open-access CURE ID platform (https://cure.ncats.io or "CURE ID" app) to include EHR/registry data.
Development and provision of a tool that will automate the extraction of data elements from EHRs and registries into CURE ID, leveraging consensus-based data standards and terminologies, where appropriate.
Procurement and synthesis of data for all COVID-19 positive patients (with future expansion capabilities to other diseases) from at least 300 sites in the U.S. and around the world.
This infrastructure will be built for COVID-19 but will be designed in a sustainable manner so that it can be promptly deployed for future outbreaks of existing and emerging infectious diseases as well as leverage the infrastructure for diseases in the interpandemic period. This will provide real-time access to the global clinical experience of repurposing drugs when there is an immediate need to identify potential existing treatments in the absence of novel drug development.
The expanded CURE ID platform will include hundreds of thousands of cases, making it substantially larger than at present, given that cases are entered manually. This large collection of cases will enable the clinical, research and regulatory communities to identify signals of potentially safe and effective COVID-19 treatments from amongst the armamentarium of existing FDA approved therapeutics. These signals will enable the generation of robust clinical hypotheses and by doing so, may accelerate the identification and development of effective treatments.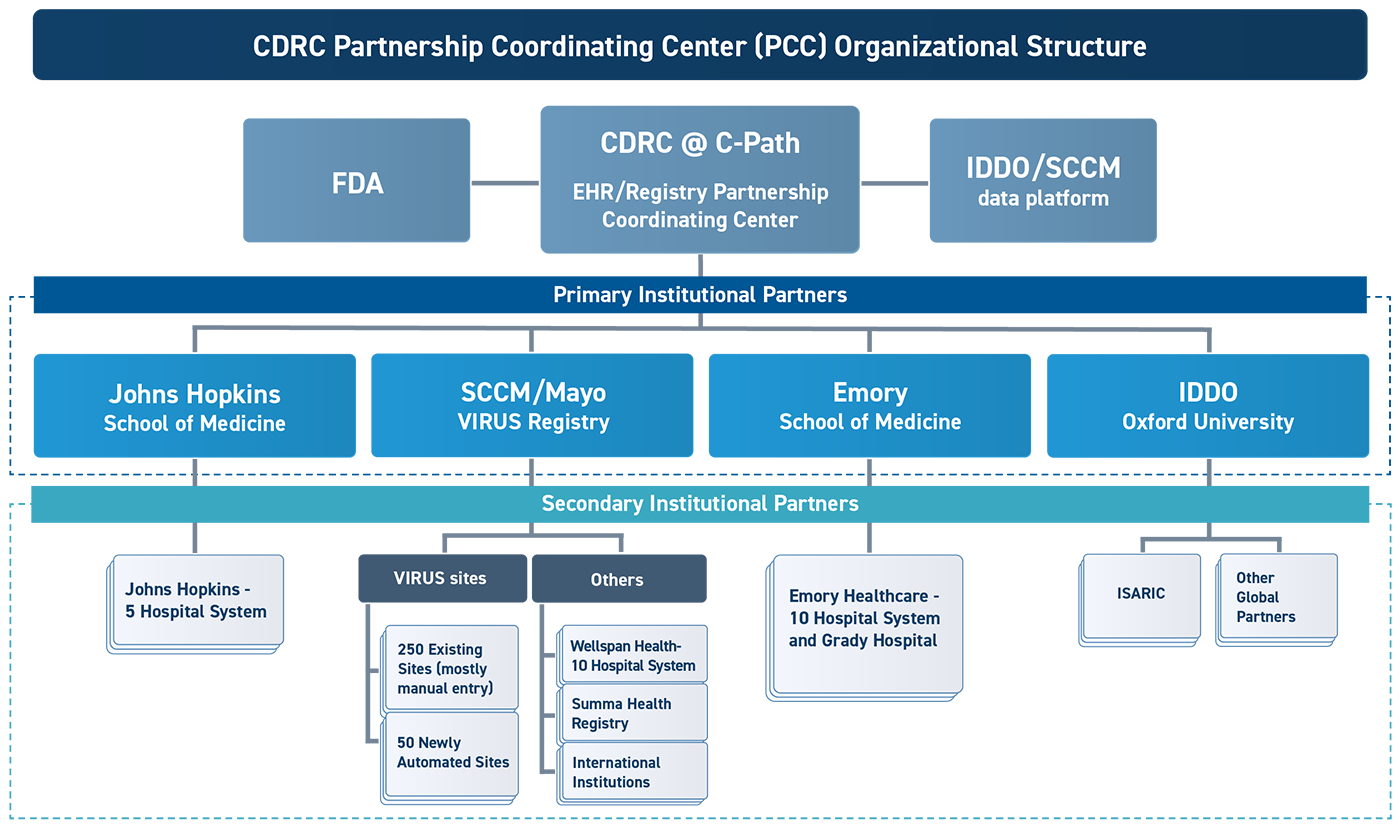 Stage 2 – Confirming hypothesis in clinical trials
While it has been clear for decades that the systems for clinical research in the US are broken, the COVID-19 pandemic has laid bare the limitations of these systems for answering the most important research questions to guide clinical practice in a timely, coordinated and efficient manner. A different approach is needed that seeks to integrate clinical research into clinical practice and make it easy to prioritize and rapidly answer the most pressing clinical questions.
CDRC's vision for such an approach includes the development of a standing infrastructure for conducting research embedded within clinical practice in three different care settings. It proposes to take advantage of the scientific rigor afforded by randomization of trial participants to different treatment arms, while making the conduct of the trial so much less burdensome to healthcare providers, that it is possible for them to participate with little added effort.
The goal would be to conduct a series of trials under a common randomized clinical trial platform structure using repurposed and novel medications to treat COVID-19 and other serious illnesses.
The initiative will encompass a series of three separate but linked platform trial infrastructures:
An acute outpatient trial infrastructure, based on a combination of telemedicine/virtual and site-based interventions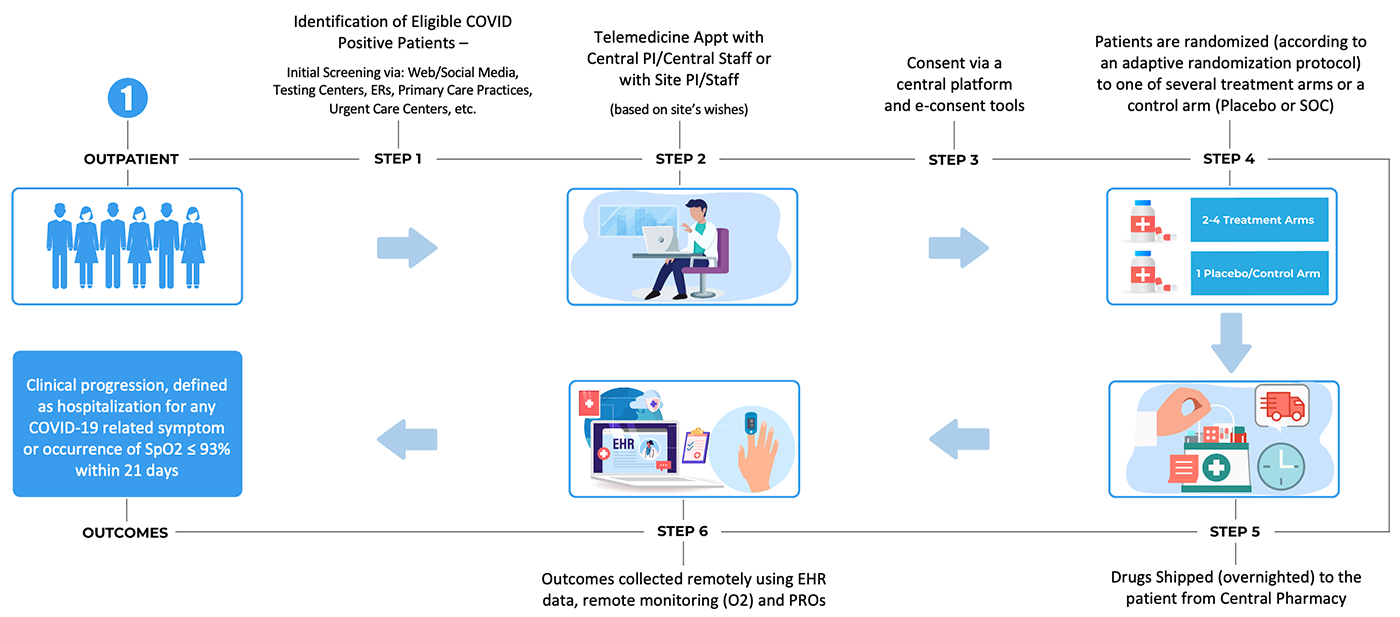 An acute inpatient trial infrastructure, based on embedding the trial within clinical practice through use of electronic health record (EHR) systems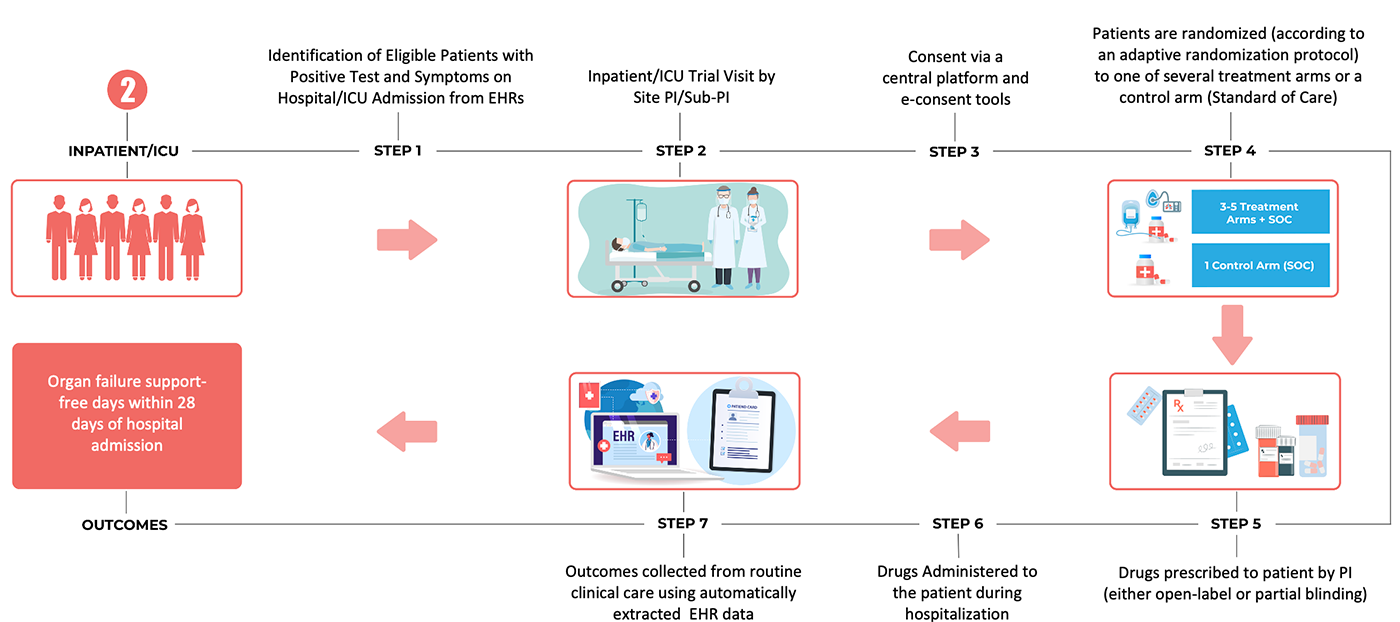 A chronic outpatient trial infrastructure for long-term follow-up of chronic conditions (e.g., post-acute sequelae of COVID-19, post-ICU syndrome, etc.), leveraging telemedicine, drugs delivered by mail and an emphasis on electronic patient-reported outcomes.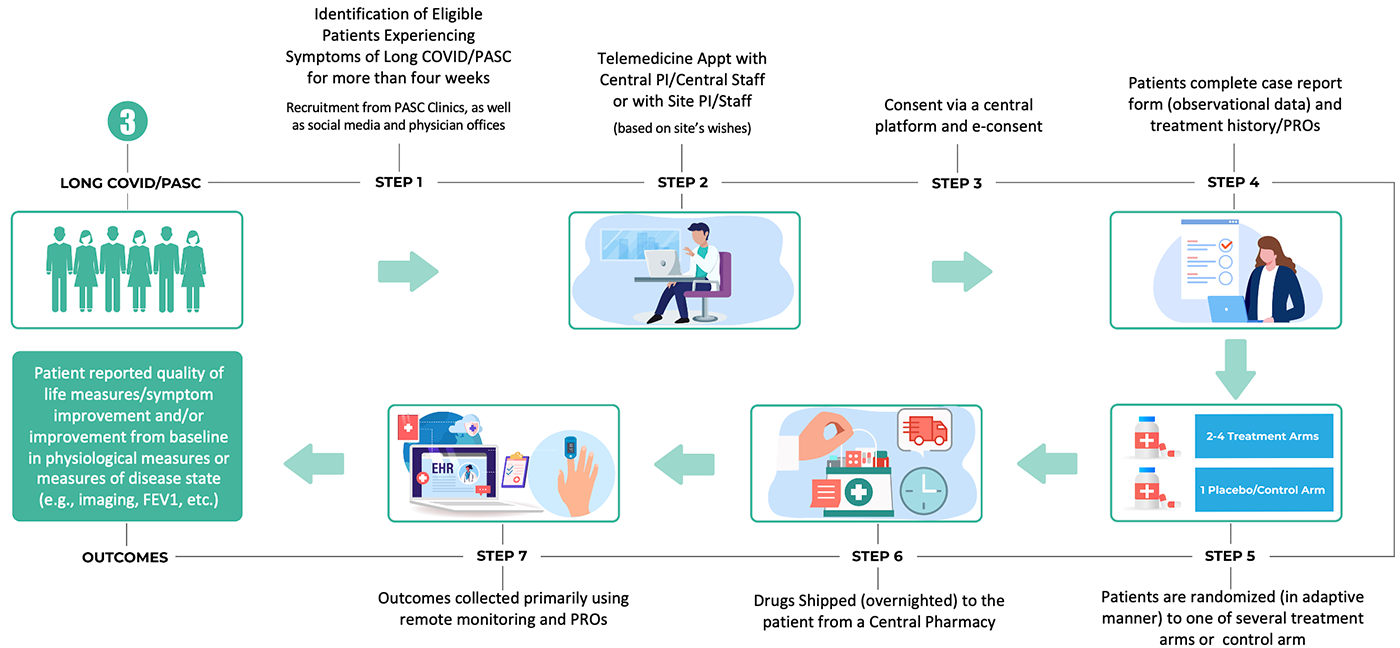 The goal is to design these trial platforms to be flexible and adaptable enough to be used both in the context of future outbreaks, as well as for study of diseases and health conditions in non-emergency settings.
The trials would all use master protocols with adaptive designs to enable the efficient and sustainable, but scientifically rigorous, evaluation of treatments, with particular emphasis on diseases with high unmet medical needs (that are not well-served by commercial interests) and the use of drugs that are already approved by the FDA or another stringent regulatory authority. They would utilize adaptive randomization so that treatments could be stopped due to futility and other drugs could be added to enable study of additional treatment options.
Stages 3 & 4 – Informing clinical practice and regulatory goals
With nearly a third of all known diseases having approved drugs, a significant proportion of diseases have limited or no approved treatment options. One reason for the lack of treatment is that many of these diseases are not determined to be financially feasible for for-profit pharmaceutical companies to pursue. Diseases which still lack a medical treatment to slow, stop, or reverse their course result in mortality, but also result in distress, morbidity and reduced quality of life. As a result, doctors often prescribe drugs to patients off-label using their professional judgment or follow treatment guidelines which may lack sufficient safety or efficacy data. The current regulatory relabeling system works well for drugs on patent but the number of drugs that companies pursue supplements to existing labels sharply declines several years before losing patent exclusivity. Once a drug has become a generic, there are no incentives for manufacturers to pursue label supplements and the current system prevents others to pursue label updates even if they have relevant clinical data. In addition to financial incentives there are a host of other challenges that must be debated and discussed including reimbursement, patent law, existing legislative tools and new regulatory pathways.
To address these issues, a stakeholder group has been convened under the auspices of CDRC to gather stakeholder input to describe and identify the barriers to supplemental drug labels in the case of repurposed drugs. The real-world data gathered through the CURE ID app can be used to inform the design of clinical trials, evaluate the effectiveness and safety of a marketed therapy intended for repurposing, or support treatment guideline development. In partnership with regulators and in collaboration with other stakeholders, a strategy will be defined to promote a regulatory pathway for repurposed drugs through supplemental drug labeling that benefits patients and public health needs.
For questions or additional information about participating in CURE ID and the CDRC, please email CDRC@c-path.org.